Zan Smith was born and raised in Charleston, SC where he spent his formative years working
alongside his father in his lowcountry workshop. This is where Zan learned the technique of direct
metal sculpture and honed his skills as a sculptor. Between learning how to work with metal and
attending his grandmother's watercolor shows on Queen Street, Zan was immediately drawn to
the artist's life.
Zan's mechanical inclinations paired with the lively creative community in Charleston guided him
into a career as a sculptor. As a master craftsman and fine art sculptor, Zan now has his own
established aesthetic. His keen attention to detail and commitment to creating delightful,
museum-quality pieces set his coveted works apart.
While the iconic human-sized copper frog is widely recognized as Zan's signature piece, his
repertoire includes many other artful creatures. Fish, birds, turtles, and, yes, frogs, are carefully
crafted out of copper, brass, and stainless steel. Each sculpture brings its surrounding space to life
with an engaging presence.
Zan primarily works in metals, but he jumps at the opportunity to incorporate other materials. As
a mixed media artist, Zan loves to work with wood, glass, concrete, oyster shells, and even exotic
metals when they can enhance a piece. Zan creates fine art sculptures that are also playful,
creating delightful daily interactions for his global clientele.
As he established his own style, Zan primarily sold his work in the Charleston, Kiawah, and
Seabrook Island communities. His innovative metal sculptures are now breathing life into
well-curated homes, gardens, landscapes, and public spaces across the world. Zan currently
resides in Asheville, NC where he and his work have experienced a rebirth. The Blue Ridge
Mountains and bustling artistic community are the perfect backdrop for the next frontier of Zan's
work.
Artist Statement
Nature is my primary inspiration and I channel that energy into my sculpture. I explore the capacity of my media by making creatures and bringing metal to life through the process of direct metal sculpture utilizing copper, brass and stainless steel. The malleability of copper renders organic form as well as provides a canvas for the blue-green variegated patina. The stainless is linear and hard, adding structural integrity as well as providing its own finish possibilities. I use bronze filler rod to "glue" the copper together by brazing it with an oxygen/ acetylene torch while the stainless is welded. My aim is to capture the essence and energy of the creatures I sculpt in order to share with the viewer my experience and feelings about the natural world around us so they may feel connected to nature in a new way.    
Where in the world are Zan's creatures?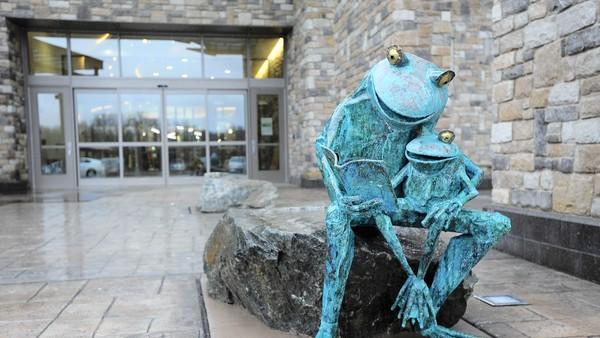 Reading to Child​ • Atlanta Botanical Gardens
Reading Frogs​ • Howard County Library (Miller Branch) in Baltimore, MD
Violin Player ​• John Hopkins School of Nursing in Baltimore, MD
Guitar Player​ • Folly River Park in Folly Beach, Charleston, SC